It has come to my attention that it is theoretically possible that Jesus Christ, Son of God, was actually a rider and caretaker of dinosaurs. You heard me right. If this is even remotely possible, I don't understand why every scientific mind in the world is not devoted to studying it.
Here are some artifacts that I have found supporting this theory.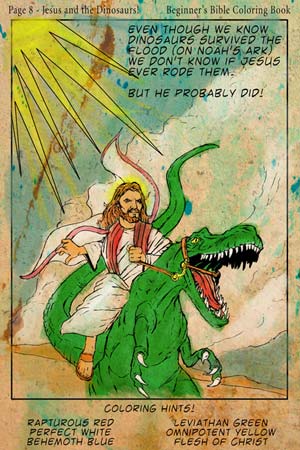 As demonstrated by this highly scientific depiction of Jesus galloping atop a raptor, we don't yet know
for sure
, if he rode dinosaurs, but according to the bible, or at least the this coloring book publisher, he
probably did.
And after all, when we're talking about the bible, isn't probably usually enough to mean "completely true"?
In this highly ridiculous painting that I have dated back to around 1100 BC, Jesus is shown not only riding what appears to be a ludicrously small brontosaurus, but also cradling what seems like an alligator. If you look at his left hand, you will notice that he is pointing to other Brontosaurs, perhaps giving this baby alligator a tour of the Jurassic world. Of course, as with any picture of dinosaurs, there are the ubiqutous pterodactyls flying overhead. It is also of note that the brontosaurus appears to be singing, perhaps due to the joy of being ridden by Jesus.
Yet another depiction of Jesus riding a dino, but what makes this one interesting is that he is also, for some reason, on his way to be crucified. As a child I remember hearing many accounts of Jesus's final hours, the stations of the cross, and the events that took place before his execution. Hell, I even saw "The Passion of the Christ", which god has told us is the most accurate depiction of the whole event. Yet for some reason I don't seem to remember there being a final Tyrannosaurus Rex in any of these accounts. I remember the last supper, I remember Jesus giving his first and last communion, but my memory seems to fail me when it comes to the last T. Rex ride.
That's why this is so important, if indeed Jesus Christ rode a dinosaur to his execution, then it was actually a lot easier that the 5 mile cross-hauling slog on foot depicted in the current version of the bible. Riding a T. Rex to one's own death is arguably one of the funner, more whimsical ways to die for man's sins. and I feel like the whole tone of the bible and maybe even religion in general could change if this were discovered to be the fact.
This one appears to be a renaissance painting of Jesus cradling a dino-child, which ironically enough seems to be giving us all a "fuck you" look because he is getting a Jesus hug and we are not. I'm not sure why, if Jesus cared so much about dinosaurs, he decided to extinct the living shit out of them, so to me this painting makes little sense. Add to that the fact that Jesus is not even riding this dinosaur, but instead you could almost say it's riding him (or in his arms at least). I believe this one to be a hoax. While there appears to be more and more evidence as time goes on that Jesus rode dinosaurs, there is still
no
evidence (except for this 15th century hoax) that he actually held them or comforted them in any way.
Also notice the pterodactyl and volcano eruption, without which we might not understand that this is prehistoric.
And now for the most interesting piece of evidence yet.
According to this picture, Jesus may actually have
been
a dinosaur. This also lends credence to the
Reptoid theory
, and while this is difficult to validate, we here at dirtlord.com are tempted to believe it anyways. It's a little something called faith, people.
Using modern technology, the input of a furry, and a conspiracy theorist, we have managed to create what we believe is an accurate picture of what Reptoid Jesus would look like naked (and squatting).
He died for your sins and mine, but he squats for himself.